As the locally headquartered stock exchange celebrates its 25th anniversary, Cees Vermaas, CEO of The International Stock Exchange (TISE), explores how the launch of a new private markets offering represents a significant landmark for the business & the private companies it serves.
It is now three years since I arrived in Guernsey to lead TISE and this October also marks the 25th anniversary of when the Exchange first opened for business.



The founding of the Exchange in 1998 was a milestone in the evolution of the financial services industry in the Channel Islands. A culture of responsiveness and innovation during the last quarter of a century has helped build a business which, headquartered in Guernsey and employing nearly 40 staff operating across five international finance centres, is a leading public market for listing equity and debt. We are best known as a  major European bond market.
Launching a private market
Utilising our experience, expertise and technology from successfully operating a public market, we have now launched a new private market offering, TISE Private Markets. This unique service provides private companies with the ability to operate their own market through a series of tailored electronic trading, settlement and registry management solutions. It enables unquoted companies and their shareholders to have the benefits of a more efficient mechanism for share trading without the cost, administrative burden and loss of control associated with being publicly listed.

The first client
I am delighted that our first client for this new service is Blue Diamond Limited, the leading garden centre group based in the UK and the Channel Islands. Having joined TISE Private Markets, Blue Diamond has full control of their dedicated market, from onboarding shareholders to scheduling auction events and managing registers. The company has access to a bespoke auction model which concentrates liquidity, a tailored auction algorithm to protect pre-emption rights, seamless electronic settlement of cash and shares, and online tools for the convenient management of share transfers and shareholder records.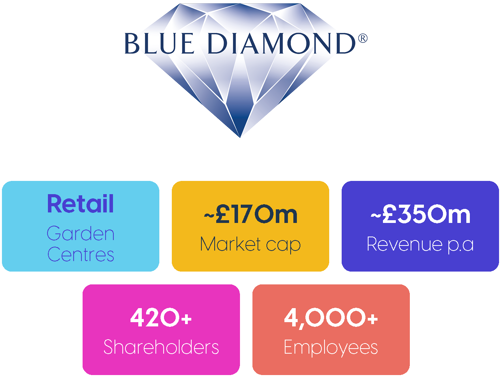 "This service provides a fantastic solution for private companies, like Blue Diamond, whose shareholders want a better way to trade their shares but without the cost, regulatory burden, and loss of control that a public listing entails."

"We believe that using the bespoke auction trading model and wider functionality of TISE Private Markets will support liquidity, enhance price discovery and make share trading more transparent for sellers and buyers, and therefore ensure that the share price better reflects the company's underlying fundamentals."

Richard Hemans, Group Finance Director and Company Secretary of Blue Diamond Limited
The future
The launch and onboarding of our first client for TISE Private Markets represents a significant landmark in the Exchange's 25-year history and for the ecosystem of private structures it serves. It also provides us with the opportunity to develop additional services which are adjacent to the TISE Private Markets proposition, and which form an important part of our strategy to secure continued growth into the future.
This article was originally published in Aurigny's in-flight magazine, En Voyage, October 2023.